SUPPORTING PEOPLE WITH DISABILITIES AND THEIR COMMUNITIES TO COME BACK STRONGER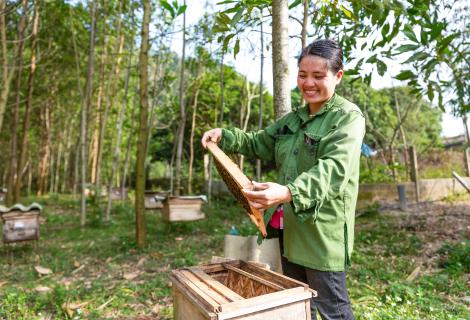 Ninh Binh, April 26, 2023 – Give2Asia, ActionAid International in Vietnam, and the Aid for social protection program Foundation Vietnam (AFV) collaborated with Nho Quan Project Management Board (LRP 25) and 275 persons with disabilities (PWDs) and their families to bounce back better after the pandemic.
The COVID-19 pandemic has severely affected many lives and livelihoods nationwide, but the hardest hit are persons with disabilities and their families. In Nho Quan, Ninh Binh, many people lost their jobs, vastly reduced incomes, or lost their livelihoods entirely, as businesses and markets also need time to recover. The average income of PWDs in Nho Quan in 2021 was about VND 27 million per person per year (equivalent to 75,000 dongs per person per day), which was 28% lower than in 2018. Therefore, many PWDs needed more income and must lean on others for resources.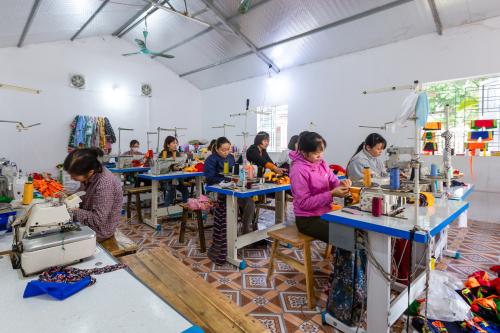 Based on their experience supporting PWDs and their families since 2017, LRP 25 collaborated with ActionAid-AFV to receive Give2Asia's financial support in favour of PWDs and their families in Nho Quan district, Ninh Binh province in the small project. The project aims to empower PWDs to restore their livelihoods after the COVID-19 pandemic by providing honeybee breeds, wild pig breeds, ginger breeds, and sewing machines for participating households.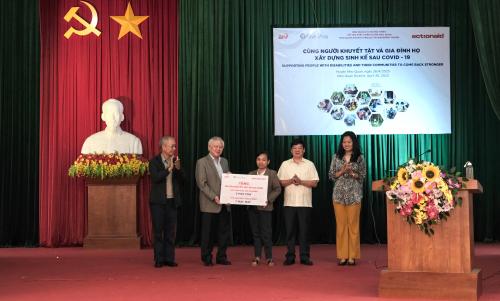 Supported people received all 30 wild pig breeds, 2.9 tons of ginger breeds, and 60 boxes of honeybee breeds after they completed training sessions on raising pigs, raising bees, and growing gingers by the project and the district's Department of Agriculture and Rural Development. Members of the Thach Binh and Cuc Phuong garment cooperatives also gained new sewing machines. These two cooperatives were established and managed by women with disabilities in 2020 and have received many orders from both domestic and international markets, providing stable livelihoods for 40 women (100% of whom are women with disabilities and their family members) with an average income ranging from VND 180,000 to 300,000 per person per day.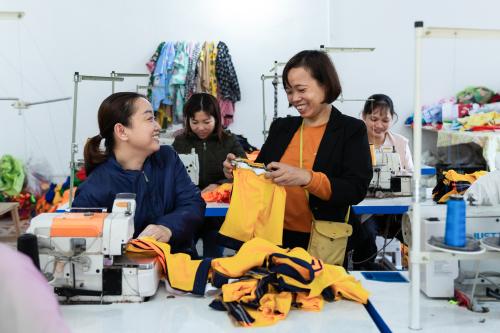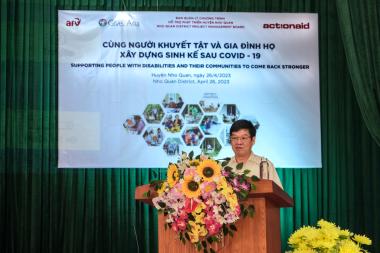 Head of the Nho Quan District Project Management Board, Dinh Van Trang, said: "We appreciate the contributions of our partners and donors. The amount of funding may be insignificant, yet highly effective. PWDs and their families now have the space, resources, and time to choose and actively implement appropriate livelihood plans for their circumstances.
This time, the project offered livelihood options carefully considered regarding the abilities of PWDs and the market demand for their products. In other words, the activity enhances the parties' empowerment responsibilities for PWDs. PWDs in the project will bounce back better, starting from small yet sustainable investments as of today."
In 2023, ActionAid Vietnam kicks off the seventh National Strategy (CSP VII) from 2023 to 2027, prioritising improving people's ability to recover and adapt to natural disasters and climate change and building safe communities. Through the Project "Supporting people with disabilities and their communities to come back stronger," ActionAid and AFV continue reaffirming their commitment to creating a safe and inclusive community for people with disabilities.