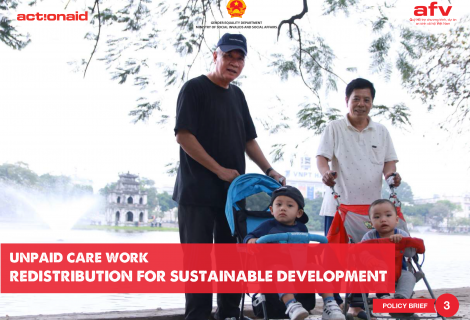 Unpaid Care Work: Redistribution for Sustainable Development
Downloads
Since 2015, ActionAid Vietnam has been undertaking a long-term research and advocacy programme focusing on unpaid care work and the impact that unequal distribution of unpaid care has on women, men, society and the economy.  This program has several components, including a time-diary survey, community behavior-change initiatives, policy analysis and advocacy. 
This report looks at redistribution of unpaid care work, and makes recommendations for how redistribution of work, redistribution of resources and redistribution of power can improve gender equality in Vietnam. The report finds that women with children under 6 still spend more than 50 hours per month just on childcare, and that funding for 100,000 new childcare places could give back 5 million hours of women's time per month, contributing 1.1 trillion VND to the economy. 
This report is the third in ActionAid's unpaid care work series, after Make a House Become a Home (2016) and How Much Does it Cost Women for Men to be the Family's Backbone? (2017).