ActionAid Vietnam organizes concert to raise awareness of sexual harassment in workplace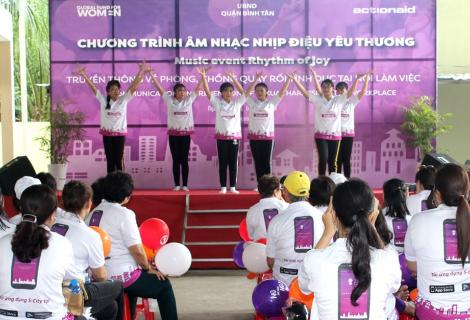 On 6 August 2019 - Music event "Rhythm of Joy" – Communication on sexual harassment prevention at the workplace was held in Binh Tan district, Ho Chi Minh city. This event attracted the attention of numerous departments, agencies, organizations, unions, businesses as well as workers, people and students in Binh Tan district. The activity is a part of the project "Initiative to end gender violence in the garment sector" implemented by ActionAid Vietnam, Aid for social protection program Foundation Vietnam, People's Committee of Binh Tan district and with financial support from Global Fund for Women.
Attended the event were women garment workers of two factories, representative of local agencies, organizations and people of Binh Tan District, Ho Chi Minh City. The music repertoire and the lively dance performance conveyed strong messages, encourage people to join hands to build a living and working environment without violence and harassment, especially for women and girls. Previously on July 2019, the project management board of Hai Phong city also conducted the same event in Hai Phong.
---
Ngày 06 tháng 08 năm 2019, tại Quận Bình Tân, Thành phố Hồ Chí Minh, – Sự kiện âm nhạc "Nhịp điệu yêu thương"- Truyền thông về phòng, chống quấy rối tình dục tại nơi làm việc đã được tổ chức, thu hút sự quan tâm của đông đảo các ban, ngành, tổ chức, đoàn thể, doanh nghiệp cũng như công nhân, người dân và các bạn học sinh, sinh viên trên địa bàn quận Bình Tân. Đây là hoạt động do Tổ chức ActionAid Việt Nam, AFV - Quỹ Hỗ trợ chương trình, dự án an sinh xã hội Việt Nam hợp tác cùng Ủy ban Nhân dân quận Bình Tân tổ chức, sự kiện nằm trong dự án "Sáng kiến chấm dứt bạo lực giới trong ngành may mặc", với sự hỗ trợ về tài chính từ Quỹ Hỗ trợ Phụ nữ Toàn cầu.
Sự kiện thu hút sự tham gia đông đảo của các nữ công nhân ngành may mặc tại hai nhà máy cùng đại diện các ban, ngành, đoàn thể và người dân quận Bình Tân, thành phố Hồ Chí Minh. Với các tiết mục âm nhạc, điệu nhảy sôi nổi, Sự kiện âm nhạc đã truyền tải những thông điệp mạnh mẽ, kêu gọi mỗi người trong chúng ta cùng chung tay xây dựng một môi trường sống và làm việc không có bạo lực và quấy rối, đặc biệt là đối với phụ nữ và trẻ em gái. Trước đó trong tháng 7 năm 2019, hoạt động tương tự đã được diễn ra tại Thành phố Hải Phòng.