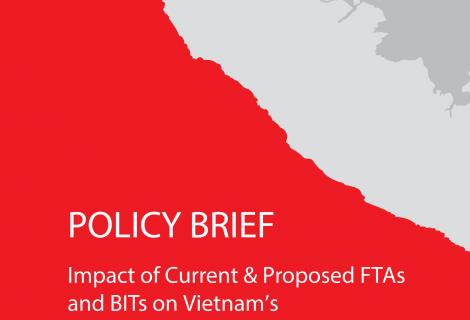 Impact of Current & Proposed FTAs and BITs on Vietnam's Food Processing Sector
Downloads
In an effort to mobilize external sources for production and economic growth, Vietnam has been deepening efforts towards international economic integration, whilst enhancing access to foreign markets. By mid‐2015, Vietnam had proactively participated in various Free Trade Agreements (FTAs) under the ASEAN framework and is currently negotiating a new‐generation of ambitious FTAs (namely Trans Pacific Partnership, Regional Comprehensive Economic Partnership, etc.) which also cover investment‐related issues, as well as Bilateral Investment Treaties (BITs).
Though the implementation of commitments of existing and pending FTAs and BITs has some potential to provide some modest trade benefits, it poses serious challenges for the development of the local food processing sector which heavily relies on agriculture inputs. The elimination of trade barriers such as tariff regulations and so forth, for instance, may result in making the already vulnerable Vietnam's agricultural sector more vulnerable to the severe competition with worldwide dominant counterparts in agricultural sector.
This is in addition to the potential elimination of Vietnam's policy space to provide incentives and subsidies to help the sector grow. It should be noted that the food processing sector links small scale farmers to markets, therefore, any distortions in the sector would greatly threaten the livelihood of this vulnerable group who mostly live in rural areas with limited alternative economic opportunities.
This policy brief therefore highlights the threats posed by Vietnam's blanket implementation of FTA and BITs agreements to the food processing sector and makes specific recommedantions to strengthen government position to support the sector take the advantages of FTAs and BITs and at the same time avoid negative impacts of global integration.