Gas Causes Serious Health Impacts On People and Planet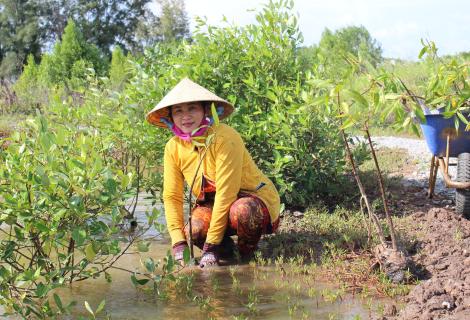 Scientific evidence that gas emission is harmful to human health & climate
Air pollution is one of the biggest environmental threats to human health, causing 7 million deaths yearly (WHO, 2022). The leading cause of air pollution worldwide is burning fossil fuels for energy. Every year, fossil fuel burning generates about 21.3 billion tons of CO2, 50% of which is directly released into the environment. Despite all these, fossil energy projects continue to expand for profit in Asia, with CO2 emissions expected to increase by 46% by 2040. The International Energy Agency report shows that CO2 emissions from the global energy sector will increase by 0.9% in 2022 to 36.8 billion tons, the highest level ever.
According to the Vietnam Ministry of Planning and Investment (MPI), in 2020, the rate of greenhouse gas (GHG) emissions in the energy sector, including transportation activities, in the country was the largest among all industries (62%), followed by the agricultural sector (18%). In particular, the emissions volume in the energy sector increased significantly, about 6.5 times higher than in 2000, due to the exponential demand for energy.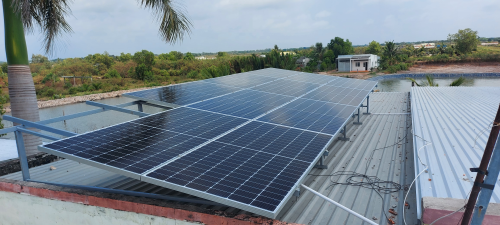 In Dong Hai district, Bac Lieu province of Vietnam, energy accounts for 40-50% of aquaculture operating costs. Aquaculture farms in Dong Hai consume energy from burning fossil fuels, making aquaculture in Bac Lieu a significant source of GHG emissions. ActionAid joins hands with the local communities moving to renewable energy, striving for a just transition and improving sustainability. Dong Hai district is where the last end of the Mekong River meets the ocean. Mekong is the longest river in Southeast Asia, stretching over 4,350km, covering an area of 795,000 km2 and bringing life to approx. 300 million people residing along the river in 6 countries of China, Myanmar, Laos, Thailand, Vietnam, and Cambodia. Mekong Delta is the most vulnerable region of Vietnam to the impact of climate change. And Dong Hai will be the first area to sink under the sea when the water rises. With this, about 12,000 people would immediately lose their livelihood, drinking water, shelter, culture, tradition, and identity.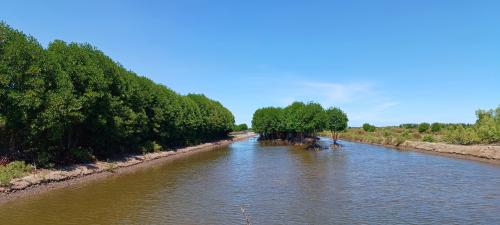 As part of commitments to act on the adverse effects of climate change, mainly sourced by GHG emissions over the past century, the Project "Energy Transition and Climate Change Mitigation in Mekong Delta from 2021 to 2023" (B3 Project) is a unique environmental project funded by the German government through Brot fur die Welt (BfdW) and ActionAid Vietnam. The B3 Project aims to build a relevant and replicable solution for communities in the Mekong Delta.
Vietnam is amongst the top exporter of aquaculture globally and ranks 2nd in shrimp production and exporting. Bac Lieu is the top shrimp producer in Vietnam, and 100% agricultural land of Dong Hai District is used for aquaculture, mainly shrimp farming. B3 Project offers shrimp farmers and their daily workers a friendly solution. It captures the gas generated from aquaculture farms and makes it into energy for lighting, cooking, warming up the water and other small household electrical appliances. This biogas energy is the most effective and applicable energy conversion model in the current local context, as:
Significantly reduce the GHG emissions from intensive shrimp farming discharging into water sources (According to the Agriculture Department of Dong Hai district, the farming scale increased 2.5 times in 2020 compared to the previous year)
Gas generated from biogas models will completely replace fossil energy (electrical coal, compressed air, firewood) in cooking, daily activities, and food processing for shrimp, cattle, poultry…
Instalment costs suit the community's financial capacity and generate an average monthly saving of VND 200,000 (USD 8) per household.
It is simple to operate and maintain the structure.
Women will have more time to rest and be free from unpaid work (like searching for coal, firewood for cooking or boiling water) for daily consumption.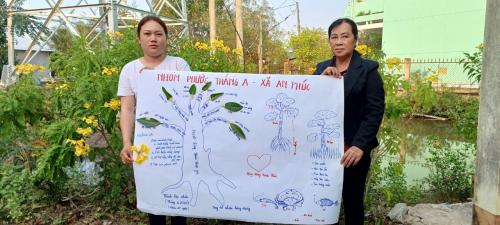 Most importantly, community members actively participate in planting more mangrove trees to create a natural environment for shrimp and crabs and absorb the GHG in shrimp farms. This has supported making agricultural and aquaculture products from Bac Lieu in general and Dong Hai more environmentally friendly.
Vietnam commits to a scenario of net zero emissions by 2050. Humble efforts like B3 Project will ignite the light for others to follow. The journey to net zero emission is disrupted by Vietnam's choice to continue encouraging investment in fossil fuel for power generation, transportation, and construction, due to the conflict in economic development priorities, national sovereignty, and sustainable development. This, unfortunately, is not strange in many poorer Asian countries. From 2021 to 2025, 1,979 oil and gas projects are expected to start operations* in the Asia Pacific despite a June 2021 warning by the International Energy Agency that achieving net zero globally depends on halting all future fossil fuel development. According to Global Energy Monitor (GEM), in 2021 alone, a fund of US$379 billion was approved to expand the gas infrastructure in Asia – the amount equivalent to 1% GDP of all of Asia accumulatively. Should all these projects come to the entire operation, people in Asia must inhale 29 billion tons of GHG** annually. The vicious cycle of poverty—climate injustice—poverty continues. It is not a simple task for the policymakers. We call for more support for local actions in forest protection and renewable energy transition to build a future for all.
---
*Asia Pacific Oil and Gas Projects Outlook to 2025
** Our World in Data's report on Global GHG emissions in 2021