Join hands for actions toward Tax Justice amidst the COVID – 19 crisis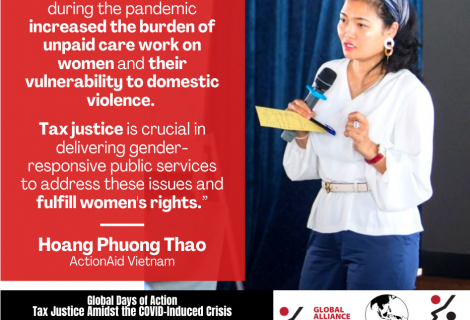 The Global Alliance for Tax Justice is a growing movement united in campaigning for greater transparency, democratic oversight and redistribution of wealth in national and global tax systems. They comprise the five regional tax justice networks of Africa, Latin America, Asia, North America and Europe, which collectively represent hundreds of organisations.
In 2020, the world has witnessed an unprecedented human destruction caused by Covid-19. With no end in sight, the pandemic is continuing its spread across the world and affecting all aspects of human life. The list of consequences of the pandemic is endless and our tax systems have been aggravating the existing inequalities. In this situation, GATJ took the initiative in a campaign called "the Global Days for Action on Tax Justice Amidst the COVID-Induced Crisis" from 14-17 September 2020. Within the framework of the event, the September 15 online rally was organized by the Asian Peoples Movement on Debt and Development (APMDD) and the Tax and Fiscal Justice- Asia (TAFJA). 
Being a proactive member of GATJ, in recent years, ActionAid Vietnam (AAV) has joined hands with the Alliance, member organizations and partners to implement various activities for both domestic and international tax justice. Through the online rally, AAV has contributed to this important campaign's goals, including:
Exposing tax-related aspects of corporate bailouts and debt during COVID times and raising awareness on their tax and fiscal justice implications.
Highlighting the consequences of revenue-eroding neoliberal policies as violations of state obligations to fulfill basic rights to primary and reproductive health, water, decent housing, gender equality, etc.
Amplifying the tax, fiscal, economic and gender justice demands as part of a transformative process of rebuilding societies and economies that are just, sustainable and rights-based
Pressing governments and the UN, and other multilateral institutions for decisive action on reforming global tax rules and architecture towards ending corporate tax dodging and illicit financial flows.
A discussion session was held in Hanoi on 15th Sep focusing on: Tax burden reduction on the poor; Regressive tax Repeal; Making tax and fiscal policies work for women; and Tax justice for COVID-19 response. Interesting topics were amongst the debates hosted at the discussion, such as how Artificial Intelligence can assist us in tax and fiscal management; how we can press governments towards female sanitary products' tax reduction and repeal; or, what would be the future of tax systems of VAT-free countries like the United Arab Emirates and Bahrain.
Ms. Hoang Phuong Thao, Executive Director of ActionAid Vietnam, gave a speech at the online rally and spoke on raising domestic revenues to finance public services as well as actions we can take to improve tax justice and overcome multiple crisis during the pandemic. "For the poor and underdeveloped countries, there's a chronic problem of having little or no resources to ensure that citizens' priorities and commitments will be delivered. It is not inevitable but a result of policy and investment decisions as well as political-economic ideology that serves the few at the expense of the many. Vietnam not only is a country that lacks resources. The biggest challenge is that we don't have control on collecting tax from domestic resources. Our hands are tied with international agreements signed in the name of trade promotion. It is vital to build a tax and fiscal system based on domestic resources, instead of debt or selling natural resources. Plus, it is important to ensure that women's fundamental rights will be prioritized and we demand the governments around the world to reduce tax burden on the poor and make tax and fiscal policy for women", she said.
During practical activities within the Global Days for Action, AAV has shown its strong stand and contribution as an active, proactive and responsible member of GATJ and TAFJA in actions for tax justice for a just and sustainable society.