Exchange information on accessing to reproductive and sexual health care for people in remote areas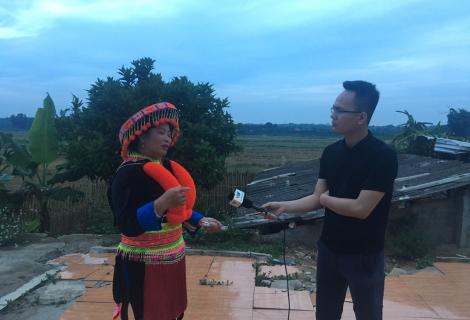 People in remote areas of Lam Ha district (Lam Dong province) recently had the opportunity to interact, exchange more and work directly with a group of journalists writing about people's rights to reproductive health and sexuality within the framework of the project "Social organization to promote the improvement of reproductive health care services for women, youth and people of ethnic minorities" (EC4) co-sponsored by the European Union (EU) and ActionAid Vietnam (AAV).
This is an opportunity for journalists from governmental and local press agencies, community's communications groups in Lam Dong and Dak Lak to exchange information on human rights, right to reproductive health and sexuality for ethnic minority women and young people in Vietnam. The content of discussion involved 6 main topics: The right to reproductive health care and sexuality in international conventions, 10 client rights to sexual and reproductive health care; sexual and reproductive health rights in Vietnam; gender sensitive public services; effective communications for ethnic minority women and youth groups; difficulties and obstacles in communication on sexual and reproductive health care for women and youth of ethnic minority.
The capacity building and exchange program took place at May end 2020, focusing on field activities, interacting with the community in EC4 project. Through this program, the media group recorded the concerns and the need in raising awareness of treatment in remote areas, especially young people and women of ethnic minority on accessing reproductive health and sexuality. This program was co-organized by the Health and Communication Development Center (HCDC) - AAV's partner in this project.